Internet
Globe Go120 With 10GB Data All Sites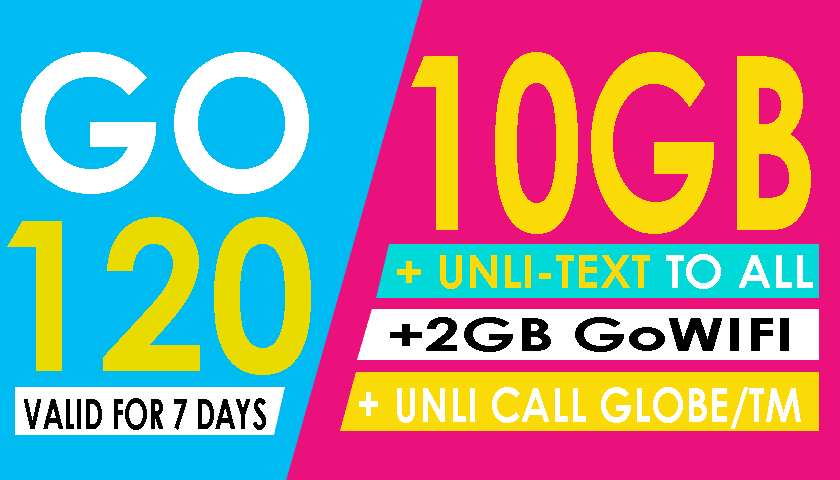 Globe's new GO120 provides you an extra 2GB over the lesser GO90, as well as unlimited calling for the low price of 120 pesos. This might be the greatest deal for people who wish to make unlimited calls to Globe and TM users for personal or professional reasons. You have 10GB of consumable open access data, unlimited texts to all networks, unlimited calls, and 2GB of GoWiFi access.
You may sign up for this promotion using the GlobeOne app. For your convenience, the mechanics are listed below.
How To Register:
Open the GlobeOne app to register for or subscribe to Globe Go promotions (you can download it from Google Play or the App Store). Check to see if your Globe mobile number is already linked to the GlobeOne app. If this is your first time using the app, you will be prompted to enter your account or Globe mobile number.
Navigate to the Promos section of the GlobeOne app. Select Go, and then select Subscribe to register for the promotion you wish to subscribe for.
Install the GlobeOne app from the PlayStore, AppGallery, or the Apple App Store.

Register your prepaid cell phone number.

Reload your prepaid account with a normal load of Php120.00.

To access the dashboard, log in to the GlobeOne app.

Navigate to the Promotions section.

Scroll or explore until you find the Go120 offer.

To register, tap Subscribe.

Keep an eye out for the SMS confirmation for Globe 8080.
Read More: Globe Promos For 1 Month
Globe GO120 Promo Details:
In contrast to Globe Go90, for an additional 30 pesos, customers get 3GB more data, which includes 2GB open access and 1GB GoWiFi. Furthermore, members receive unlimited calls to Globe and TM, making it ideal for individuals who often call the Globe network.
Meanwhile, when compared to the Globe GoSAKTO 120, which costs the same as the Go120, which is plainly 120 pesos, we can conclude that it is entirely up to the customers. This is due to the fact that they both have a total of 12GB of data, as well as unlimited messages and calls. Globe Go120 offers the advantage of having 10GB of open access data as opposed to 3GB open access + 7GB for GoSHARE&SHOP plus GoWATCH&PLAY. The advantage of GoSAKTO120, on the other hand, is the free GCash coupon and free 1-hour data for a random app.
ten gigabytes of open data

2GB of GoWiFi access is provided for free.

Text messages to all networks are free.

Calls to Globe and TM are free.

Total data size: 9GB

The price is 90 pesos.

7-day validity

Register with the GlobeOne app
Read More: Globe Go50 5GB Data
How To Order?
Click the "ADD TO CART" or "CHECKOUT" button to proceed.

Proceed to the payment stage

In the "Order Notes," provide your cell phone number.

Proceed to the payment page. Pay using your Gondoly wallet or a debit/credit card (Secured payment via Paypal)

Done! Your load will be replenished in a matter of minutes.