Internet
Globe Go50 5GB Data, Unli AllNet Texts For 3 Days, For Only 50 Pesos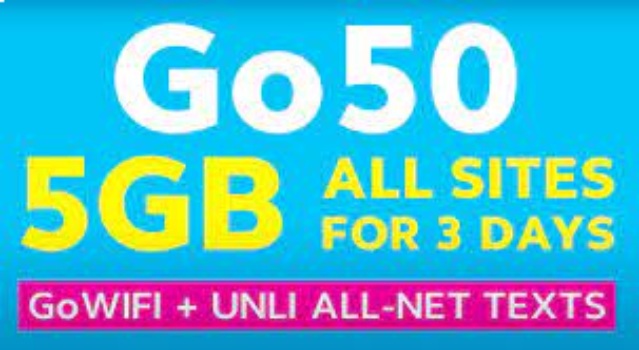 The Globe Go50 comes with a whopping 5GB of data that prepaid consumers may utilize on any website. Yes, the 5GB is open access data, which can be used for anything, including online surfing, email sending and receiving, checking and publishing on social media accounts, and even downloading files, applications, and games. Furthermore, it comes with 1GB of GoWiFi access, for a total of 6GB of data. But wait, there's more! It also includes unlimited messages to all networks! For instance, the Globe GoSURF50 has 6GB of data, but only 2GB of it is open access data, 3GB is for accessing apps of choice, and 1GB is for GoWiFi. This simply implies that Globe Go 50 is definitely a better deal than GoSURF50, not only because it contains 5GB of open access data, but also because customers do not need to go through an additional registration process to obtain all of the data.
To register, first, download the GlobeOne app from the Google Play Store or the Apple App Store. Then, go to the "Promos" tab and sign up for the Go50. You may also register using the GCash App by going to the Buy Load menu and selecting Go 50. If you do not have GCash, you may make an account using this link: https://gcsh.app/r/AfCMh9B and receive Php70 in freebies.
Read: How To Load Globe Prepaid Wifi At Home
How To Register For The Globe Go50 Promotion
1GB GoWiFi 5GB data

Text messages to all networks are free.

Valid for three days

Loading costs 50 pesos.
Registration Procedure:
You may sign up for the Globe GO50 Promo via GlobeOne or SMS. To begin, download the GlobeOne app from the Google Play Store, the Apple App Store, or the Huawei AppGallery, and then register your Globe Prepaid cell number. You should be able to get an SMS message after you have successfully registered. Open the GlobeOne app, go to the 'Promos' menu, choose 'Go,' and subscribe to Go50 to register Go Promo. You can also register through the SMS keyword; simply text Go50 to 8080 and wait for the SMS confirmation.
Additional Information On Globe GO50 Promo Usage
When utilizing the promotion, there is no need to keep a balance. As long as you have an adequate load, you can use any Globe Go Promo. Except for SuperSURF, you can combine Go50 with other Globe promotions such as GoSURF, GoSAKTO, GoUNLI, or GoALLNET. The open-access data for the Globe Go 50 Promo is stackable. If you still have data left over after your load expires, register another Go promo to add it to their data, and all will follow the longest validity. It is possible to use the free 1GB GoWiFi data allocation on GoWiFi hotspots, which are often found in certain malls, schools, and transportation stations.
To see how much data you have left and when it will expire, use your GlobeOne app or text DATA BAL to 8080.
You can register for GoBOOSTER add-ons if you want to use them. You may select from a variety of boosters, like extra data, greater app access, or even a longer validity period.
Read More: Globe GOUNLI95 7 Days Unli AllNet Calls And Texts
List Of Globe GoBOOSTER Add-ons
GoBOOST15 – 15 for an extra 1GB of all-access data

GoWATCH10 – $10 for an extra 1GB of storage on YouTube, Netflix, Viu, iWant, iflix, HBO Go, ONE FC, and NBA League Pass.

GoPLAY10 – $10 for an extra 1GB of storage for Mobile Legends, Clash of Clans, PUBG, Call of Duty, MU Origin 2, Harry Potter, and Twitch.

GoSHARE10 – $10 for an extra 1GB of storage on Facebook, Instagram, TikTok, Twitter, and Snapchat.

GoSHOP10 – 10 for an extra 1GB of Lazada, Shopee, and ZALORA storage.

GoKOREAN10 – $10 for an extra 1GB of Vlive, Viu, YouTube, Netflix, and iflix storage.

GoLISTEN10 – $10 for an extra 1GB of YouTube Music, Spotify, or WeSing.

GoRIDE10 – $10 for an extra 1GB of storage space on YouTube Learning, Wikipedia, Google Drive, Google Hangouts, and Canva.

GoLEARN10 – $10 for an extra 1GB of storage space on YouTube Learning, Wikipedia, Google Drive, Google Hangouts, and Canva.

GoWORK10 – $10 for an extra 1GB of Zoom, Whatsapp, and Viber storage.

GoLONGER10 – 10 for an extra day of validity

GoCALL10 – ten dollars for unlimited calls to any network.
Starts At 5GB For PHP 50 For 3 Days
The first promotion is the Go50, which includes 5GB of open data + UNLI Text to all networks + 1GB of GoWiFi for three days. In comparison, its open data is 3GB bigger than Globe's previous GoSURF50 deal for prepaid subscribers, which only provided 2GB of data.
Users of Globe Prepaid may now surf and do more on any site or app that requires internet access. 5GB is also the largest mobile prepaid promo discovered by local providers to date.
As previously stated, Globe Telecom also offers larger prepaid Go promotions. The entire breakdown is provided below.
Read More: Globe GOSAKTO70 1GB Data Unli All Network
How Do I Check My Go50 Subscription Status?
Text DATA BAL to 8080 to verify the status of your Globe Go 50 membership. The GlobeOne app also allows you to monitor your Globe subscriptions Install the 'GlobeOne' app and sign in using your Globe mobile phone number.
Follow TECHYBASE for Useful Technology Information. Submit Tech Guest Post at Techybase for more Exposure and Reach.