Globe Go50 5GB Data, Unli AllNet Texts For 3 Days, For Only 50 Pesos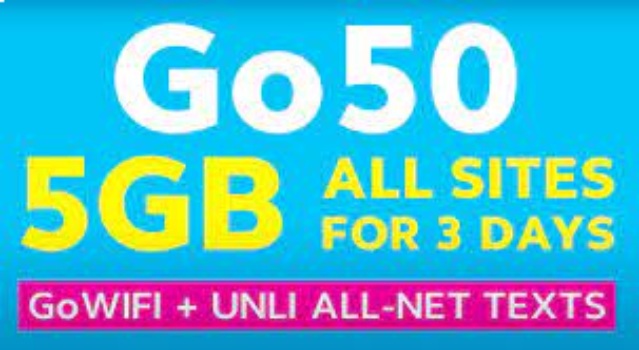 The Globe Go50 comes with a whopping 5GB of data that prepaid consumers may utilize on any website. Yes, the 5GB is open access data, which can be used for anything, including online surfing, email sending and receiving, checking and publishing on social media accounts, and even downloading files, applications, and games. Furthermore, it comes with 1GB of GoWiFi access, for a total of 6GB of data. But wait, there's more! It also includes unlimited messages to all networks! For instance, the Globe GoSURF50 has 6GB of data, but only 2GB of it is open access data, 3GB is for accessing apps of choice, and 1GB is for GoWiFi. This simply implies that Globe Go 50 is definitely a better deal than GoSURF50, not only because it contains 5GB of open access data, but also because customers do not need to go through an additional registration process to obtain all of the data.
To register, first, download the GlobeOne app from the Google Play Store or the Apple App Store. Then, go to the "Promos" tab and sign up for the Go50. You may also register using the GCash App by going to the Buy Load menu and selecting Go 50. If you do not have GCash, you may make an account using this link: https://gcsh.app/r/AfCMh9B and receive Php70 in freebies.
Read: How To Load Globe Prepaid Wifi At Home
How To Register For The Globe Go50 Promotion
1GB GoWiFi 5GB data

Text messages to all networks are free.

Valid for three days

Loading costs 50 pesos.
Registration Procedure:
You may sign up for the Globe GO50 Promo via GlobeOne or SMS. To begin, download the GlobeOne app from the Google Play Store, the Apple App Store, or the Huawei AppGallery, and then register your Globe Prepaid cell number. You should be able to get an SMS message after you have successfully registered. Open the GlobeOne app, go to the 'Promos' menu, choose 'Go,' and subscribe to Go50 to register Go Promo. You can also register through the SMS keyword; simply text Go50 to 8080 and wait for the SMS confirmation.
Additional Information On Globe GO50 Promo Usage
When utilizing the promotion, there is no need to keep a balance. As long as you have an adequate load, you can use any Globe Go Promo. Except for SuperSURF, you can combine Go50 with other Globe promotions such as GoSURF, GoSAKTO, GoUNLI, or GoALLNET. The open-access data for the Globe Go 50 Promo is stackable. If you still have data left over after your load expires, register another Go promo to add it to their data, and all will follow the longest validity. It is possible to use the free 1GB GoWiFi data allocation on GoWiFi hotspots, which are often found in certain malls, schools, and transportation stations.
To see how much data you have left and when it will expire, use your GlobeOne app or text DATA BAL to 8080.
You can register for GoBOOSTER add-ons if you want to use them. You may select from a variety of boosters, like extra data, greater app access, or even a longer validity period.
Read More: Globe GOUNLI95 7 Days Unli AllNet Calls And Texts
List Of Globe GoBOOSTER Add-ons
GoBOOST15 – 15 for an extra 1GB of all-access data

GoWATCH10 – $10 for an extra 1GB of storage on YouTube, Netflix, Viu, iWant, iflix, HBO Go, ONE FC, and NBA League Pass.

GoPLAY10 – $10 for an extra 1GB of storage for Mobile Legends, Clash of Clans, PUBG, Call of Duty, MU Origin 2, Harry Potter, and Twitch.

GoSHARE10 – $10 for an extra 1GB of storage on Facebook, Instagram, TikTok, Twitter, and Snapchat.

GoSHOP10 – 10 for an extra 1GB of Lazada, Shopee, and ZALORA storage.

GoKOREAN10 – $10 for an extra 1GB of Vlive, Viu, YouTube, Netflix, and iflix storage.

GoLISTEN10 – $10 for an extra 1GB of YouTube Music, Spotify, or WeSing.

GoRIDE10 – $10 for an extra 1GB of storage space on YouTube Learning, Wikipedia, Google Drive, Google Hangouts, and Canva.

GoLEARN10 – $10 for an extra 1GB of storage space on YouTube Learning, Wikipedia, Google Drive, Google Hangouts, and Canva.

GoWORK10 – $10 for an extra 1GB of Zoom, Whatsapp, and Viber storage.

GoLONGER10 – 10 for an extra day of validity

GoCALL10 – ten dollars for unlimited calls to any network.
Starts At 5GB For PHP 50 For 3 Days
The first promotion is the Go50, which includes 5GB of open data + UNLI Text to all networks + 1GB of GoWiFi for three days. In comparison, its open data is 3GB bigger than Globe's previous GoSURF50 deal for prepaid subscribers, which only provided 2GB of data.
Users of Globe Prepaid may now surf and do more on any site or app that requires internet access. 5GB is also the largest mobile prepaid promo discovered by local providers to date.
As previously stated, Globe Telecom also offers larger prepaid Go promotions. The entire breakdown is provided below.
Read More: Globe GOSAKTO70 1GB Data Unli All Network
How Do I Check My Go50 Subscription Status?
Text DATA BAL to 8080 to verify the status of your Globe Go 50 membership. The GlobeOne app also allows you to monitor your Globe subscriptions Install the 'GlobeOne' app and sign in using your Globe mobile phone number.
Follow TECHYBASE for Useful Technology Information. Submit Tech Guest Post at Techybase for more Exposure and Reach.
Globe Prepaid Wifi Load List 2021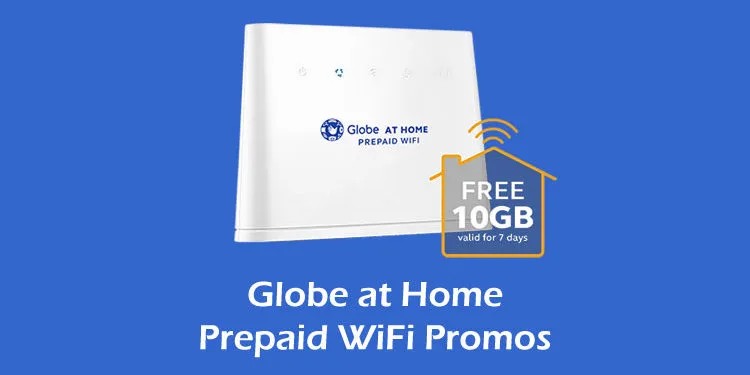 The Globe at Home Prepaid WiFi is a portable modem that allows Globe prepaid customers to access the Internet without the use of a fixed line or a postpaid subscription. To use this device, you must first purchase a prepaid Internet plan or add-on that will provide you with Internet access for a set length of time. With that in mind, we've compiled a comprehensive and up-to-date list of Globe at Home Prepaid WiFi offers for you to choose from based on your requirements and budget.
The Globe at Home Prepaid WiFi is a great solution for people without a fixed-line or postpaid Internet subscription who want a dependable Internet connection at a low cost. If you wish to access the Internet, you can take the gadget with you and just load it up. There are no outstanding bills to be concerned about. As a result, it's a popular alternative among students, transients, and those on a tight budget.
When you buy the Globe at Home Prepaid WiFi, you get a free 10GB of data for 7 days. After that, you'll need to sign up for an Internet promotion in order to keep surfing. Each promotion or bundle comes with a particular amount of Internet bandwidth (GB) that expires after a set period of time. You can, however, stack your offers to get more data or extend their validity. This enables you to save any unused data allotment that would otherwise expire.
Read More: How To Earn Money In Gcash Easy Way
List Of Globe At Home Prepaid WiFi Promos
| Keyword | Description | Cost | Validity |
| --- | --- | --- | --- |
| GOSURF50 | 1GB of Internet data | 50 | 3 days |
| HOMESURF15 | 1GB of Internet data | 15 | 1 day |
| HOMESURF199 | 23GB of Internet data + 1GB per day for YouTube | 199 | 7 days |
| HOMESURF599 | 40GB of Internet data + 1GB per day for YouTube | 599 | 15 days |
| HOMESURF999 | 70GB of Internet data + 1GB per day for YouTube | 999 | 30 days |
| HOMESURF1499 | 100GB of Internet data + 1GB per day for YouTube | 1,499 | 30 days |
| HOMEWATCH199 | 6GB of Internet data + 4GB per day for YouTube, Netflix, iflix, iWant, TikTok, HOOQ and NBA | 199 | 7 days |
| HOMEWATCH599 | 15GB of Internet data + 4GB per day for YouTube, Netflix, iflix, iWant, TikTok, HOOQ and NBA | 599 | 15 days |
| HOMEWATCH999 | 20GB of Internet data + 4GB per day for YouTube, Netflix, iflix, iWant, TikTok, HOOQ and NBA | 999 | 30 days |
| HOMEWATCH1499 | 80GB of Internet data + 4GB per day for YouTube, Netflix, iflix, iWant, TikTok, HOOQ and NBA | 1,499 | 30 days |
The GoSURF50 promo is the cheapest Globe at Home Prepaid WiFi offer, costing only 50 pesos and valid for three days. You will get 1GB of open access Internet, but unlike its competitor, the Smart Bro GigaSURF50, you will not get additional data for videos.
Subscribe to HomeSURF promos like the HomeSURF199 to get 1GB of bandwidth every day for YouTube. You can't register for the HomeSURF15 on its own because it's an add-on for the GoSURF50 promotion.
If you enjoy watching Netflix movies, sign up for HomeWATCH promotions to get 4GB per day for YouTube, Netflix, iflix, iWant, HOOQ, TikTok, and NBA League Pass.
Read More: How To Activate Globe Sim Best Way
How To Subscribe To Globe At Home Prepaid WiFi Promos
Globe at Home Prepaid WiFi offers can be obtained in a variety of ways. We prefer utilizing the Globe at the Home app for this because it is convenient and requires no typing of keywords; but, if you don't have the app, you can use other methods such as dialing *143# or using the Share-a-Promo tool.
Using The Globe At Home App
With a few taps on your phone, you can check your balance or subscribe to promos with the Globe at Home app. Learn how to use the Globe at the Home app and link it to your account in this article.
To register for the promotion, make sure you have enough load balance. The prepaid load can be purchased for your Globe at Home account in the same way that it can be purchased for any other Globe number.
By the way, the back of the modem has your Globe at Home Prepaid WiFi mobile number. It can be topped up at any Globe prepaid load location.
Read More: How Gcash To Bank Transfer Fee
How To Activate Globe Sim Best Way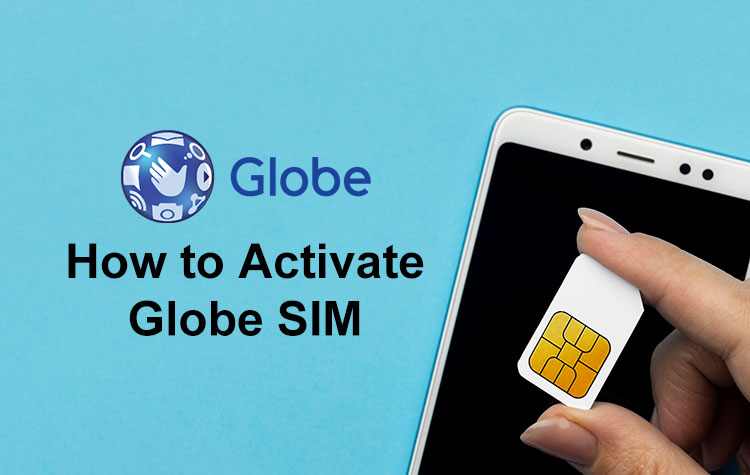 Do you have a new Globe SIM card? Perhaps you're a new Globe subscriber, or you've recently switched from another mobile network to Globe, and you'd like to activate your new Globe SIM card. By activating your Globe SIM, you'll gain access to the company's nationwide 4G/LTE network, allowing you to send text messages, make phone calls, and browse the Internet right away.
The most recent Globe SIM cards are 5G-ready, which means that you will be able to browse the Internet at 5G speeds as long as you are using a 5G-capable handset with the latest Globe SIM card. However, if 5G is not yet available in your area or if you do not yet have a 5G phone, you need not be concerned because your new Globe 5G-ready SIM can also be used with 4G/LTE and 3G networks.
If you are still using a 3G SIM card, it is time to upgrade to an LTE or 5G-capable device. By purchasing an LTE Upgrade SIM, you can upgrade your Globe SIM without having to give up your old number. Text the word UPGRADE to 8080 from your old non-LTE SIM card to get the new LTE SIM card for free. After that, insert the new SIM card and, when prompted, enter the 6-digit upgrade code that was provided. You can find instructions on how to upgrade your Globe SIM in this article.
A free 1GB of mobile data (valid for 7 days) is included with the purchase of the new Globe 5G-ready prepaid SIM card, which can be redeemed by downloading the GlobeOne mobile application. By signing up for GCash with your new mobile number, you will also receive a free 50 as well as an additional 1GB of data.
So, are you ready to put your new SIM card to good use? In some cases, Globe will activate your new SIM card immediately after it has been inserted because it can detect the SIM card automatically. Nevertheless, if this does not occur, you can 
manually activate it.
Read More: How Gcash To Bank Transfer Fee
Still A 3G SIM User?
Allow yourself a respite from your outdated 3G sim and slow data experience!
You can change your phone number to one that is LTE or 5G-ready without losing your previous number. Your old mobile number, which you have been using to communicate with your contacts, as well as the number that is associated with all of your accounts, will not be deleted.
Using your old Globe sim, you can upgrade to the new LTE sim by texting the word UPGRADE to the number 8080 on your previous sim. Installing the new Globe sim will result in a prompt to enter the 6-digit upgrade code, which you should do.
Additionally, if you require additional assistance from Globe personnel, you can schedule an online appointment at the Globe Store. If you are a GlobeOne Postpaid 3G customer, you can request a SIM change by using the GlobeOne app. They will send a courier to your registered address to deliver your new Globe sim to you as conveniently as possible.
3G is on the verge of becoming obsolete and is beginning to be regarded as a relic of the past. Slow internet speeds can be extremely inconvenient. It's past time to emerge from the cave!
Globe is constantly innovating in order to provide its subscribers with a better surfing experience on the internet. Take full advantage of your 5G/LTE sim by enjoying all of your favorite movies, daily online shopping, bill payment, attending virtual meetings, and communicating with your colleagues!
Read More: Download And Install Call Of Duty Mobile Mod APK
Turn On Your Mobile Data Connection.
Turning on mobile data is the quickest and most convenient way to activate your Globe SIM. Insert your new SIM card into the SIM card slot on your phone and turn on mobile data. Globe will recognize that your SIM card is attempting to connect to the Internet and will send you a welcome text message as soon as it is detected. Your new Globe SIM card will be activated as soon as you receive the text message mentioned above.
Because Globe will not provide you with free mobile data (unless you first download the GlobeOne app), you will be unable to access the Internet at this time. You can get your free 1GB of data by downloading the GlobeOne app, or you can purchase prepaid load and sign up for Internet promotion.
Call 222
You can also activate your Globe SIM by dialing 222 if the previous method did not work for some reason. Due to the nature of this automated call service, you will receive an SMS congratulating you on joining the Globe network, as well as a summary of your load balance. This signifies that your Globe SIM has been successfully activated, and you can begin texting, making phone calls, and browsing the Internet.
Read More: J&T Express Rate List For 2021
Dial *143#
Another option for activating your Globe prepaid SIM is to dial the USSD code *143# and then navigate to My Account > Data Balance on the subsequent screen. After you have activated your Globe SIM, you will receive an SMS response as well as a welcome message confirming that your SIM has been activated.
How To Download And Install Call Of Duty Mobile Mod APK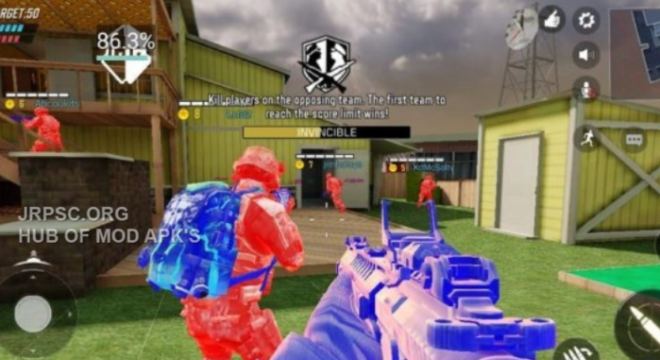 Android is unquestionably an excellent platform for game developers to debut new titles, particularly games that need several actions on touch displays, such as first-person shooters. As a result, an increasing number of gamers are looking for a nice game to play on their mobile devices.
However, due to the oversaturation of the Android game market, finding a good game is difficult. As a result, finding a title that truly sticks out from the crowd will be difficult.
Call of Duty: Mobile, on the other hand, is one of a select few games that you'll enjoy. With our review, you can learn everything there is to know about this amazing mobile fps game and discover if it is right for you.
Tencent Games has released Mobile, a free first-person shooting game. He inherits the iconic game modes, areas, weaponry, and characters from the Call of Duty PC series in an upgraded first-person action experience.
Call Of Duty:
Mobile Logo is a new take on the classic "Call of Duty" video game.
CODM mixes Call of Duty: Black Ops with Modern Warfare, resulting in a modern-day battlefield and game. Unlike other FPS games, players in Call of Duty can explore multiple game modes such as "Zombies," "Multiplayer," "Battle Royale," and various areas that can be more entertaining on a PC.
Running CODM in Game Loop helps you to get beyond the limitations of larger-screen phones and enjoy the following benefits.
Read More: J&T Express Rate List For 2021
Advantages:
One of the most significant requirements of COD players is the suitable console. As a classic FPS game, one of the most important requirements of COD players is the appropriate console. The master mapping in Game Loop has increased players' accuracy and shooting ability. As a result, stuttering, delay, and sluggish loading issues do not occur when using Game Loop.
Graphics and maximum visibility, with special support for 2K resolution: While HD design is important for FPS games, Game Loop is the only best emulator that offers stunning 2k graphics, allowing players to enjoy an immersive gaming experience while continuing the epic storey of the Call of Duty video.
Requires little equipment and is precise. 2GB RAM: FPS players are frequently more concerned with equipment quality in order to have a smoother shooting experience. You won't have to worry about your smartphone shutting down if you play mobile games on a computer using the Game Loop emulator.
The Game Is Designed Exclusively For Mobile Phones.
Play premium multiplayer modes and maps whenever and wherever you choose. Is it possible to have a battle royale with 100 players? Team 5 vs 5 in a rapid death match? Do frightful zombies work? Sniper vs. sniper battle? MOBILE's free Call of Duty game has it all, according to Activision.
Read More: Your Guide To SSS Hotline And Contact Numbers
The Game Is Free On Mobile.
On your phone, you can play high-quality console games with configurable controls, voice and text chat, and spectacular 3D graphics and sound. Enjoy the thrill of the world's most popular shooter game, which is now available on your phone for quick access while on the go.
I Like Gameplay And Maps.
For the first time, multiplayer maps from Call of Duty: Black Ops and Call of Duty: Modern Warfare are available for free. You can also work on a new survival map with up to 100 people with your pals. Join millions of gamers from across the world in the fun!
Customize Your Own Unique LOADOUT.
You'll unlock and win hundreds of popular characters, weapons, clothing, medicines, and spare parts as you play, which you can use to customise your downloads. In exciting PvP multiplayer modes including 5v5 Team Deathmatch, Front Line, Free for All, Search and Destroy, Sniper Battle, and Royal Battle, use these downloads in battle.
Choice And Interdependence.
Whether in gameplay, events, controls, or downloads, the game delivers intricacy and depth in an ever-changing experience.
Do you think you've got what it takes to go up against the best? Call of Duty is now available for download!
Download Call Of Duty: Mobile Now!
Activision Publishing, Inc., Activision Publishing, Inc., Activision Publishing, Inc. Activision Publishing, Inc. owns the trademarks ACTIVISION and CALL OF DUTY. The proprietors of all other trademarks and trade names are solely responsible for them. You agree to Activision's privacy policy and our terms by downloading, installing, or using this software, which may be amended by Activision from time to time.
Activision offers no guarantee as to the availability of the application's features or gameplay, and reserves the right to change or stop the services at any time.
Activision Publishing, Inc., Activision Publishing, Inc., Activision Publishing, Inc. Activision Publishing, Inc. owns the trademarks ACTIVISION, CALL OF DUTY BLACK OPS, CALL OF DUTY MODERN WARFARE, and CALL OF DUTY. The proprietors of all other trademarks and trade names are solely responsible for them.
You agree to Activision's Privacy Policy and Terms of Use by downloading, installing, or using this software, which may be changed by Activision at any time. 
This game can be downloaded and installed on any Android smartphone running Android 4.0.3 or above. To begin, go to Apkdone.com and search the games category for the keyword "Call of Duty Mobile APK."
NOTE: Because servers are open in some countries, you will need to use a VPN. Users have reported that connecting to "India" works. VPN providers include ExpressVPN, FlyVPN, and VPNHub.
Read More: How To Transfer Gcash To Paypal Money
How To Install Call Of Duty: Mobile On Mobile:
Install the "APK" file on your device.

Copy the "com.activision.callofduty.shooter" folder into the "android / obb" folder.

Start the game.