Internet
Globe GOUNLI95 7 Days Unli AllNet Calls And Texts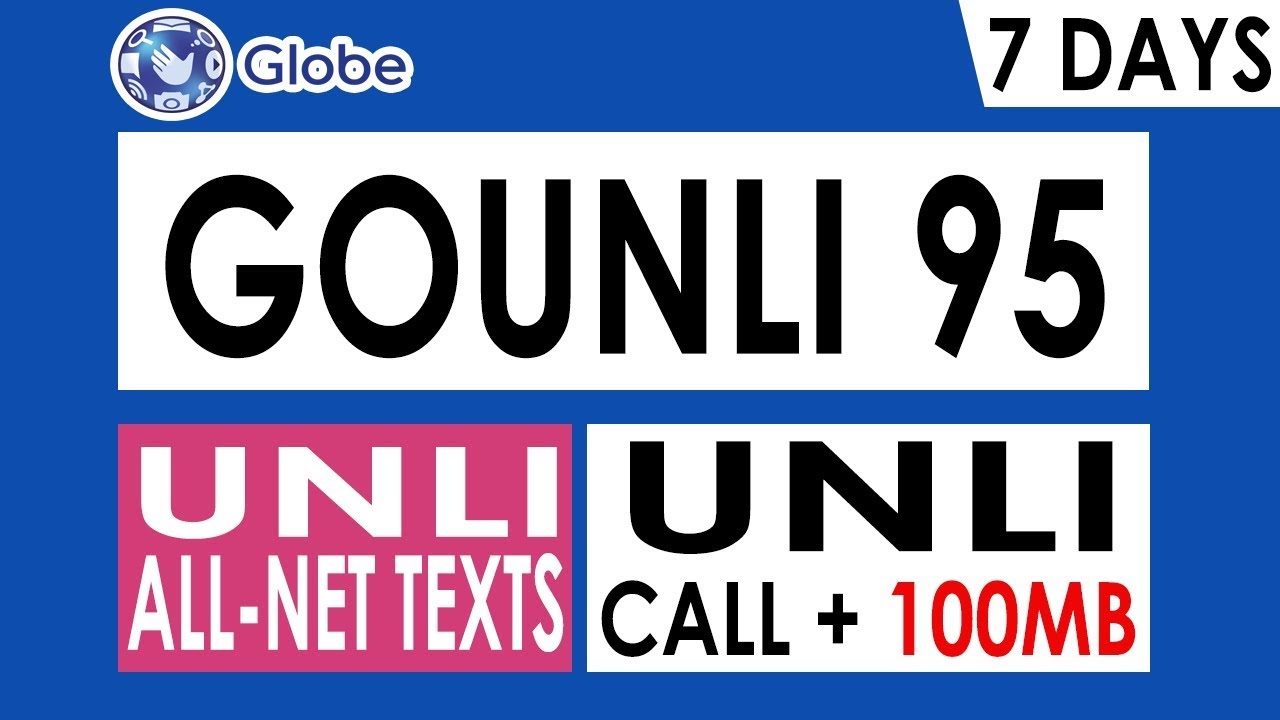 The finest aspect of a network promo is that it is limitless, so you don't have to worry about your load balance. Globe's GoUNLI95 plan provides unlimited calls and texts to all networks for only 95 pesos. The promotion also includes a limited amount of data that you may use to browse the internet or access your favorite social media applications such as Facebook, Twitter, and Instagram.
The old deal, GOCOMBOIJHD95, included free Facebook, while the new GOUNLI 95 only provides 100MB of mobile data. It is currently quite restricted, and I doubt it will last more than a week, even if you are a regular Facebook user. However, if you utilize this deal for calls and texts, it will undoubtedly meet your everyday communication demands for the next seven days.
What Is Gounli95 In Globe
Globe Telecom's promotional code is GOUNLI95. It includes unlimited calls to Globe/TM, unlimited messages, and 100MB internet access for 7 days for only 95 pesos.
Promo Details:
Unlimited calls to Globe and TM, as well as 

unlimited text messages to any network

Valid for 7 days

100 MB Internet

A LOAD OF 95 PHP IS REQUIRED
Read More: Globe GOSAKTO70 1GB Data Unli All Network
GOUNLI95 Unli Calls To All Networks, Unli Texts To All Networks, And 1GB Internet Valid For 7 Days
Globe's GOUNLI95 is a low-cost call and text promotion. For only 95 Pesos, you may make unlimited calls to all networks (Globe, TM, Smart, TNT, Sun, and DITO), send unlimited texts to all networks, and get 1GB of mobile data valid for 7 days. GOUNLI95 also comes with 1GB of mobile data, which is plenty for surfing Google, streaming YouTube, and playing online Android games like Clash of Clans, Mobile Legends, and other Android apps. With the open-access data, you may also access your favorite social media applications such as Facebook, Twitter, TikTok, Instagram, Kumu, and others.
GOUNLI95 is also your phone and texting buddy. With all net calls, you can meet all of your calling demands, whether they are for business, family, friends, or school. It also includes unlimited text messages to meet all of your communication needs. You may SMS any of your contacts on any network, including Globe, TM, Smart, TNT, Sun, and DITO, with no restrictions. All of these activities: phoning, texting, and internet browsing may be completed in 7 days for a low cost of 95 pesos.
How To Register 
Before you register for this promotion, just recharge your Globe prepaid account with 95 pesos. To subscribe to GoUNLI95, you have two choices. The first is to send an SMS keyword to 8080, or you may utilize the Globe GoSAKTO USSD code menu. For your convenience, the mechanics are listed below.
To register, simply text GOUNLI95 to 8080.
Read More: Smart UCT30 Promo
How To Subscribe
To take advantage of this promotion, you must send a text message from your Globe Mobile phone.
*143# is the access code.

Choose ComboPromos.

Choose GoUNLI.

Select GoSakto 95 – 7 days.

Select Register by subscribing
Globe Unli Call And Text For 7 Days
If you have any more questions or concerns regarding this GOUNLI95 – unli call and text offer for 7 days for less than P100, please leave a comment below.
GOSAKTO 120
Unli texts to all networks and unli calls to Globe/TM are included with 1GB of mobile data (120) that is good for 7 days. GOSAKTO120 should be texted to 8080.
Read More: How To Change Globe At Home Login Username And Password
GOSAKTO 140
Unli texts to all networks and unli calls to Globe/TM for 7 days with 2GB mobile data (140). GOSAKTO140 should be texted to 8080.
How To Call
You do not need to put any code or prefix before the phone number while making a call. Simply dial the Globe or TM number of the person you want to reach.
How To Check Balance
Text GOUNLIamount>space>STATUS to 8080 to check your remaining internet data allotment (MB) or the status of your GOUNLI subscription. Example: GOUNLI30 STATUS should be texted to 8080.
How To Unsubscribe
To cancel this promotion, text GOUNLI Keyword> STOP to 8080. For instance, GOUNLI50 STOP, then send to 8080. Those were the GLOBE GOUNLI Promos, which provide unlimited calls and messages. Let us know what you think in the comments area.
Follow TECHYBASE for Useful Technology Information. Submit Tech Guest Post at Techybase for more Exposure and Reach.