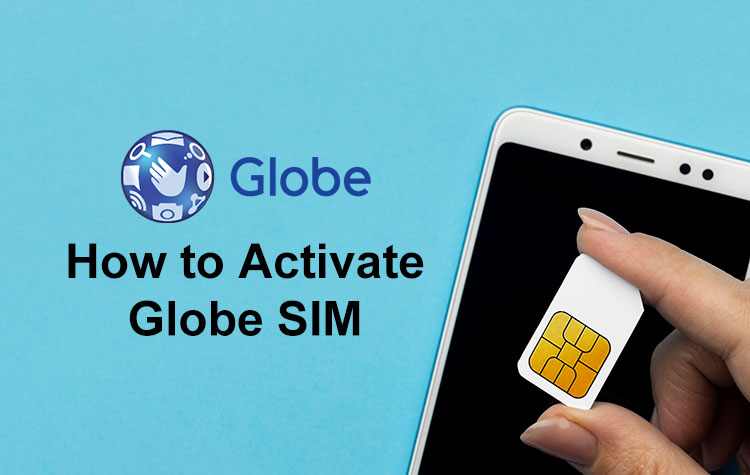 Do you have a new Globe SIM card? Perhaps you're a new Globe subscriber, or you've recently switched from another mobile network to Globe, and you'd like to activate your new Globe SIM card. By activating your Globe SIM, you'll gain access to the company's nationwide 4G/LTE network, allowing you to send text messages, make phone calls, and browse the Internet right away.
The most recent Globe SIM cards are 5G-ready, which means that you will be able to browse the Internet at 5G speeds as long as you are using a 5G-capable handset with the latest Globe SIM card. However, if 5G is not yet available in your area or if you do not yet have a 5G phone, you need not be concerned because your new Globe 5G-ready SIM can also be used with 4G/LTE and 3G networks.
If you are still using a 3G SIM card, it is time to upgrade to an LTE or 5G-capable device. By purchasing an LTE Upgrade SIM, you can upgrade your Globe SIM without having to give up your old number. Text the word UPGRADE to 8080 from your old non-LTE SIM card to get the new LTE SIM card for free. After that, insert the new SIM card and, when prompted, enter the 6-digit upgrade code that was provided. You can find instructions on how to upgrade your Globe SIM in this article.
A free 1GB of mobile data (valid for 7 days) is included with the purchase of the new Globe 5G-ready prepaid SIM card, which can be redeemed by downloading the GlobeOne mobile application. By signing up for GCash with your new mobile number, you will also receive a free 50 as well as an additional 1GB of data.
So, are you ready to put your new SIM card to good use? In some cases, Globe will activate your new SIM card immediately after it has been inserted because it can detect the SIM card automatically. Nevertheless, if this does not occur, you can 
manually activate it.
Read More: How Gcash To Bank Transfer Fee
Still A 3G SIM User?
Allow yourself a respite from your outdated 3G sim and slow data experience!
You can change your phone number to one that is LTE or 5G-ready without losing your previous number. Your old mobile number, which you have been using to communicate with your contacts, as well as the number that is associated with all of your accounts, will not be deleted.
Using your old Globe sim, you can upgrade to the new LTE sim by texting the word UPGRADE to the number 8080 on your previous sim. Installing the new Globe sim will result in a prompt to enter the 6-digit upgrade code, which you should do.
Additionally, if you require additional assistance from Globe personnel, you can schedule an online appointment at the Globe Store. If you are a GlobeOne Postpaid 3G customer, you can request a SIM change by using the GlobeOne app. They will send a courier to your registered address to deliver your new Globe sim to you as conveniently as possible.
3G is on the verge of becoming obsolete and is beginning to be regarded as a relic of the past. Slow internet speeds can be extremely inconvenient. It's past time to emerge from the cave!
Globe is constantly innovating in order to provide its subscribers with a better surfing experience on the internet. Take full advantage of your 5G/LTE sim by enjoying all of your favorite movies, daily online shopping, bill payment, attending virtual meetings, and communicating with your colleagues!
Read More: Download And Install Call Of Duty Mobile Mod APK
Turn On Your Mobile Data Connection.
Turning on mobile data is the quickest and most convenient way to activate your Globe SIM. Insert your new SIM card into the SIM card slot on your phone and turn on mobile data. Globe will recognize that your SIM card is attempting to connect to the Internet and will send you a welcome text message as soon as it is detected. Your new Globe SIM card will be activated as soon as you receive the text message mentioned above.
Because Globe will not provide you with free mobile data (unless you first download the GlobeOne app), you will be unable to access the Internet at this time. You can get your free 1GB of data by downloading the GlobeOne app, or you can purchase prepaid load and sign up for Internet promotion.
Call 222
You can also activate your Globe SIM by dialing 222 if the previous method did not work for some reason. Due to the nature of this automated call service, you will receive an SMS congratulating you on joining the Globe network, as well as a summary of your load balance. This signifies that your Globe SIM has been successfully activated, and you can begin texting, making phone calls, and browsing the Internet.
Read More: J&T Express Rate List For 2021
Dial *143#
Another option for activating your Globe prepaid SIM is to dial the USSD code *143# and then navigate to My Account > Data Balance on the subsequent screen. After you have activated your Globe SIM, you will receive an SMS response as well as a welcome message confirming that your SIM has been activated.