Tech
How To Lock Facebook Account In 2021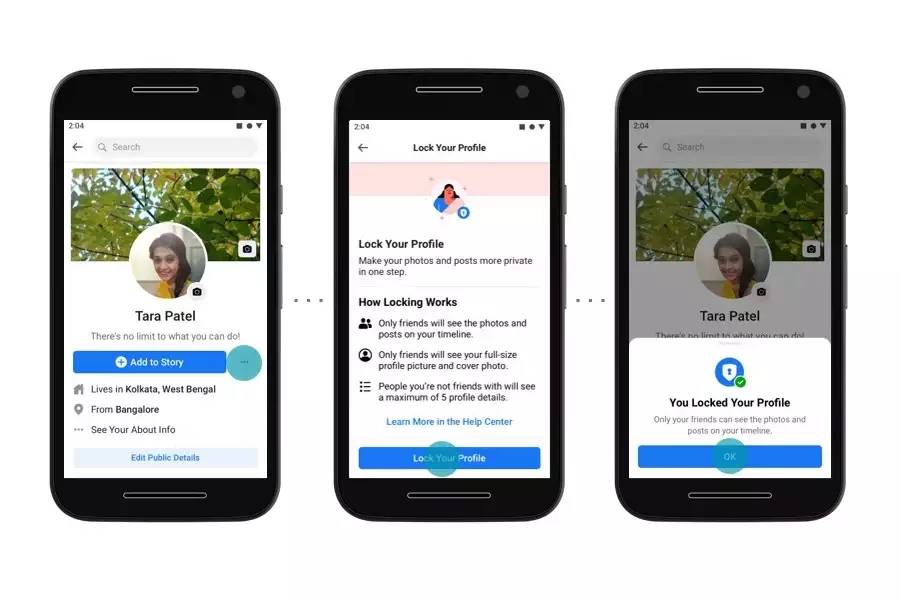 Facebook's new "Facebook Profile Lock" function is an excellent method to keep your personal information safe from inquisitive eyes. Your Facebook profile may be locked so that only your friends can see posts, photographs, articles, and personal information.
Unquestionably, social networking sites such as Facebook have transformed the way we connect with our close friends, family members, and even total strangers from all over the globe. There are drawbacks to social networking, such as the absence of privacy and anonymity. Searching for a person's social media page makes it all too easy to get access to their private information.
Recently, Facebook launched a "Facebook Profile Lock" tool to address these privacy and security issues. Using this method, you may lock your Facebook account without having to change your privacy settings for posts and photographs individually.
Your posts, photographs, stories, and personal information won't be visible to strangers or stalkers if you lock your Facebook account. Their sole access is to your profile image, your cover photo, and up to five of your profile information.
There is currently no way to lock your Facebook profile. The good news is that there's a loophole that permits you to activate this function even though it isn't accessible for you yet. After you've locked your profile for the first time, you may lock and unlock it as many times as you'd like that.
Read More: How To Know Bdo Account Number
Tips To Lock Profile Picture on Facebook
You may be wondering how to lock your Facebook profile photo so that no one else may view it. If you want to lock your Facebook profile image for a variety of reasons, there are a few easy steps to do. Here are some of them:
Using a web browser, go to the Facebook login page.

Access your Facebook account by signing in.

Click on your Facebook profile picture in the upper left-hand corner of the page to access your profile information.

"Turn on Profile Picture Guard" may be found in the pop-up window.

Your Facebook profile image will be locked once you enable this option. Here's how to lock your Facebook profile image on the social network.
Lock Facebook Profile Via Mobile App
Using the Android mobile app, you may lock your Facebook profile as follows:
Open the Facebook app and tap on your profile to see your information on the social networking site.

'Add to Story' may be accessed by selecting the three-dot menu icon.

On this screen, you should see a Lock Profile option.

It will explain how it works on the following page, with an option to lock your profile at the bottom.

The message 'You've locked your profile should appear in a pop-up window. Click on OK.
Read More: How To Pay Pldt Using Gcash
Lock Facebook Profile Via Desktop
However, if you don't have mobile access, there is a workaround that you may use to lock your app from the browser:
Click here to visit Facebook's website

Click on the symbol for your profile. Instead of 'www' in the URL, change it to'm.facebook.com/yourprofilename'

A three-dot menu should appear next to the Edit Profile option on the desktop version of Facebook.

To lock your profile, click on it in the three-dot menu.

In the same way that the Android version shows you how locking works, this website will teach you how to lock your profile. There's a link to click on

Your profile has been secured.
Use the desktop workaround for iOS or borrow an Android smartphone and follow the above instructions to lock their profiles.
To unlock your Facebook profile, follow the same instructions whether you are using the mobile app or the desktop version of the website. You will now see an Unlock Profile option instead of the Lock Profile option. Simply tap on it and then click Unlock on the following screen to unlock your profile. Click on Unlock Your Profile at the bottom of the page for a brief explanation of how unlocking your profile works. Your profile will be unlocked after you click Unlock Your Profile.
Read More: Globe Go120 With 10GB Data All Sites
What Are The Changes Occur While Locking The Profile?
Your friend request settings will not be affected if you lock your Facebook profile. Friendship requests can be sent by anybody at any time, and anyone can submit a friend request to you.

The message settings are likewise unaffected by this change. Anyone can send you a message, and anyone can send you a message. Users that send messages to people not on your friend list might be blocked.

It is possible to make information such as home city and school data inaccessible to others if you have secured your profile information.

Users who are not friends with you cannot see your profile images, cover photographs, or information.

No one can see or zoom in on your profile photo if they aren't on your friend's list. View, zoom, and share capabilities are restricted to your friends. Your profile will be restricted if anybody other than your friends tries to zoom in on your profile picture or see it on full screen.

Unknown friend requests might be blocked if they make you uncomfortable.